We are excited to announce our partnership with Charge Running to bring you a next-level virtual racing experience for the 2021 Back on My Feet Running Festival! All running and walking levels are welcomed!
Imagine a LIVE race announcer welcoming you by name, a live leaderboard updating your stats in real-time, a live group chat and the feeling of real connection with other runners around the world.
Prepare to be motivated, inspired and entertained from your starting line all the way to your finish line - anywhere in the world (treadmills work too).

Be sure to sign up with your code (which will be sent to participants via email a week before the race kicks off on September 18th). This email will have a link to the race and a personalized code for you to use to download the Charge Running app and provide direct access to the race. Using Charge for race day is absolutely FREE using the link we provide to registered participants.
Then, log on to the app on Saturday, September 18th at 9 AM ET/8 AM CT/7 AM MT/6 AM PT and listen live as we celebrate the power of running together as a community. If you can't join us on race day, that's not a problem! You will be able to participate and listen to an on-demand version of the event.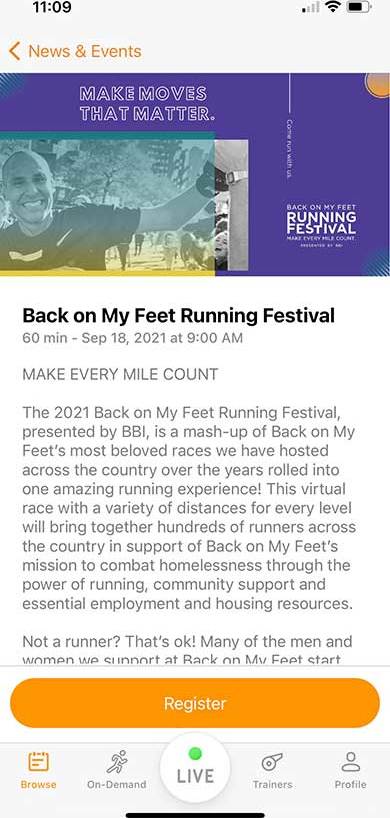 If you would like to try Charge Running before race day download the app from the App Store or Google Play Store and sign up for the FREE 7-day trial. *See chargerunning.com FAQ's for details.

Just think, you and your friends can train together virtually wherever you are!
Watch the video below to learn more about racing with Charge Running!